HDPE Pipe Welding Machine Supplier and Manufacturer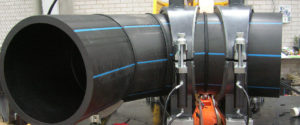 At Tubi Soluzioni FZC, we manufacture HDPE Pipe welding Machines and accessories. These pipe connection machines can attach to HDPE / MDPE / PP pipes. Our types of pipe jointing machines are hydraulic pipe jointing machine, manual pipe jointing machine, hydraulic power pack, pipe trimmer, heating mirror, etc.
Tubi Soluzioni itself has emerged as Brand in
HDPE pipe Welding Machine
with various range in Manual and Hydraulic Type. We have both HDPE Manual Welding Machine, HDPE Hydraulic Welding Machine,
HDPE Pipe 
Jointing Machine, HDPE Welding Machine, HDPE Welding Jack with various options. We have manual Machine with Pressure Guage and without Pressure Guage in economical range to suit the clients requirement
Tubi Soluzioni FZC has HDPE pipe welding machines as  HDPE Welding Jack, HDPE Pipe Welding Jack, HDPE Manual Jack,  HDPE Pipe Welding Machine,  HDPE Pipe Butt Welding Machine, HDPE Butt Fusion Welding Machine, HDPE Pani Parotha machine, HDPE Welding Machine manufacturer.
We are the leading supplier in UAE, Oman, Bahrain, Kuwait countries and in cities as Dubai, Abu Dhabi, Sharjah, Ras Al Khaimah, Umm Al Quwain, Fujairah, Al Ain, Sohar, Muscat, Salalah, Duqm, Manama, Kuwait City, etc. We manufacture and supply products with high quality and latest technology, also our products are available at costs. HDPE pipe welding machines are assembled using quality material, procured from certified vendors of the market. For cooling and mirroring countdown, these machines have a buzzer with flashlight indicator. Clients can avail these within the given time frame and at suitable cost-effective prices for
HDPE pipe Welding Machine.
HDPE pipe welding machine Features:
HDPE Pipes are made with lightweight and high strength material. Some of HDPE pipe welding machine features are given below:
Separate two-channel timer records time in soaking and cooling phases with time alarm.
A high-accurate and shockproof pressure meter indicate clearer readings.
International warranty for 12 months.
Toolbox including spare blades, thermocouple, quick couplings, seal rings, spanner, and screwdriver, etc.
Optional parts: stub end device, Optional wheeled trolley is also available.
Other Important features of HDPE pipe welding machine
In the HDPE pipe welding machine, together with the holder for a base frame, hydraulic unit, electrical planning tool, heating plate, planning tool, and heating plate.
Remoteable Aluminum Case Safety Seat Switch with Power Planning Tool
Removable PTFE-coated hotplate is made of cast aluminum with a different temperature control system.
Electric hydraulic pump with control and quick-connecting hoses.
Low start-up pressure ensures reliable welding quality for small pipes.
A variable welding position allows easy welding of various fittings.
Application for joining PE, PP-PVDF pipes and pipe fittings at the construction site and workshop.
Tubi Soluzioni FZC is the leading manufacturer of HDPE Pipe welding Machines and tools. Contact us for more information about HDPE Pipe welding Machines.